How My Site On Jamaican Travel Was Built With SBI
... and why you should do the same
Having the opportunity to spread the word about Jamaica is surely a dream come true. I would have never thought that I would be able to use the internet to share my love of Jamaica. I have tried in the past to build websites but have always failed. It is very clear now that I had been using the wrong methods as I tried to achieve my goals.

Site Build It has been so incredible. It has made everything so much easier for me and has made clear so many of what I thought were mysteries. It has also allowed me to be proud of something I call my own. This is my website for the world to see. I enjoy when people see the site and are in disbelief that I built the site…I find that to be a lot of fun.

Our economy is a bit wacky right now, as you have probably experienced yourself. What if you could own your own business and not have to be concerned about losing your job? What if you did not have to go to work to earn a small amount of money doing something you do not like doing? These are a couple of the questions I asked myself prior to starting my SBI business.

I am not the only person who feels this way of course. SBI has helped many people's dreams come true.
There are so many choice morsels associated with this incredible program that I fear I would not do it justice to explain it all on my own. By the way, you never have to do anything on your own with SBI. Anyway, here is an informative tour and overview of SBI.

SBI is for everyone. Regardless of your passion (very important) SBI is for you. There are case studies that describe many people of different nationalities, niches, and dreams making money on the internet by doing it the right way with Site Build It.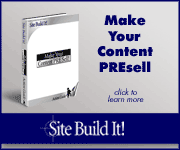 If you are not convinced this is the best way to make an extra income click here and hopefully the staff at SBI can answer your questions. You can also consider downloading the free e-book to the right - it will give you information on how to presell your content. Regardless of your decision, I wish you all the best in your future endeavors and hope to hear of your great successes and your fun vacations in Jamaica. Who knows TODAY could be the first day of the rest of your life.


Testimonials - What will Site Build It! do for me?
Before you go, here is what some Solo Build It owners are saying:
"Having the opportunity to share Vieques and Puerto Rico with so many people around the world is a great satisfaction. As a bonus, I get to go on a tax-deductible vacation every year. I can visit my beautiful island, ride my jeep, take lots of photos, meet great new people, and write travel guides about places I love. I felt that money would just be the icing on the top. Of course, I did not realize how much icing my cake would have."
~ Luisa Cupeles
viequestravelguide.com

"What can I say? Life has never been better. Freedom is something that can't be paid for. It's not that I work less, I probably work more than I ever did, but I do it on my own terms. It doesn't feel like work at all.I am confident that I will never have to work for others again unless I want to!"
~ B. Bradtke
outback-australia-travel-secrets.com

---